Vice-Chair Omar Sabir (D)
Biography of Commissioner Omar Sabir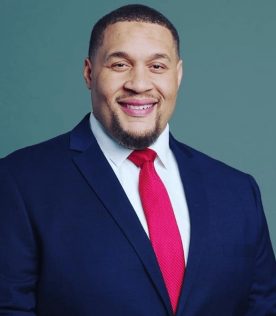 Omar Sabir was elected on November 5, 2019 and sworn in as City Commissioner of the County of Philadelphia on January 6, 2020. His primary goal as Commissioner is to empower and enable all Philadelphians to participate in the voting process by addressing voter apathy and educating communities about the importance of civic engagement.
Prior to his election, Commissioner Sabir focused his career on community advocacy. He served as a senior staffer in the Office of Pennsylvania State Senator Vincent Hughes and held senior roles at the Nathaniel Sabir Memorial Scholarship Fund, Citizens for State Representative Louise Williams Bishop, and the First Judicial District of Pennsylvania. Early in his career, Commissioner Sabir served as a union construction worker where he gained critical insight into the issues and concerns of working families.
Through grassroots engagement in community hubs like barbershops and recreation centers, Commissioner Sabir created Humanitarian Heroes. Under this initiative, he partnered with ShopRite stores and Nestlé, the world's largest food & beverage company, to send 35,000 bottles of water to the Mississippi Food Network in Jackson, Mississippi. Commissioner Sabir also created the Octavius Catto Taskforce, which highlights the importance of registering to vote, the impact of elections and the threat of voter suppression.
Commissioner Sabir has been featured on international news outlets and programs including Showtime's The Circus, CNN, 60 Minutes, Vice, Al Jazeera, Reuters, Variety, Politico, MSNBC and the New York Times. He was recently named one of Philadelphia's Most Influential African Americans by the Philadelphia Tribune.
Commissioner Sabir is committed to increased voter turnout across Philadelphia, particularly in historically disadvantaged communities. He has been honored by former Congressman Robert Brady for his work as the Founder of Vote Philly Vote, an initiative that aims to increase voter turnout across the City of Philadelphia until more than 90% of all registered voters participate in all city elections.
Commissioner Omar Sabir has been the recipient of numerous awards from organizations such as The Elvira B. Pierce Scholarship Fund and the Hispanic Media Group. Most recently, Commissioner Sabir was commended by President Joseph R. Biden for his exceptional work in supporting voter participation in Philadelphia elections.
Commissioner Sabir is a proud graduate of Cheyney University and a graduate of the DiverseForce On Boards Program, an initiative hosted by the University of Pennsylvania which is designed to train professionals of color on board governance and facilitate their placement on governing boards. He is a husband, father of 6 children and a lifelong Philadelphian.